Arcade Frame Designs
Our goal is to make easy to build arcade controllers. Making an arcade controller usually means cutting tools and a place to make a mess such as a wood shop. Our designs are all laser cut and 3D printed. This fusion of digital disciplines allows you to make what you can and outsource the rest without the need for anything more than a screwdriver. In addition, since everything is digital, anyone can edit or improve the original plans to meet their own needs. We aim to create designs that are affordable and focus on getting you gaming ASAP.
Simple and Fast DIY Build
A simple arcade design that can be replicated in a couple hours with a 3D printer. Instead of 3d printing the entire thing, which can be slow, use a spare piece of wood to get the job done quick. What are you waiting for? Keep up to date with updates on our blog
Frame: 3D Printed ( ABS recommended ), wood
Joystick Mounts: Sanwa JLF
Buttons Holes: 24mm
Open-source large format fightstick. 3D printed and laser cut components for easy customization.
Frame: Laser Cut MDF & Acrylic ( 14.5 x 9.75 x 3.375 Inches )
Joystick Mounts: As requested
Buttons: As requested
Ships: 1-2 weeks, assembled or individual pieces
Compact and accessible fightstick. Quick to assemble. Minimalist design. Price break for pairs of units.
Frame: Laser Cut MDF & Acrylic (9.75 x 7 x 2.75 Inches)
Joystick Mounts: Sanwa JLF
Buttons Holes: 24mm
Ships: 1-2 weeks, assembled, ready for your parts
GameThing 3D
Experimental 3D printer conversion of GameThing Standard
Frame: 3D Printed, ABS recommended (9.75 x 7 x 2.75 Inches)
Joystick Mounts: Sanwa JLF
Buttons Holes: 24mm
Split into parts for small 5x5-inch 3D print beds
Designed from the ground up for the 3D printing process. Optimized for print time, strength, and design.
Frame: Designed from the start to be optimized for 3D printing
Joystick Mounts: TBD
Button Holes: TBD
Status: Design in progress
Deprecated Designs
The Original GameThing
A portable arcade controller with a slot for your laptop. It's a simple way to game anywhere. Just connect a laptop and start playing hundreds of classic multiplayer titles anywhere!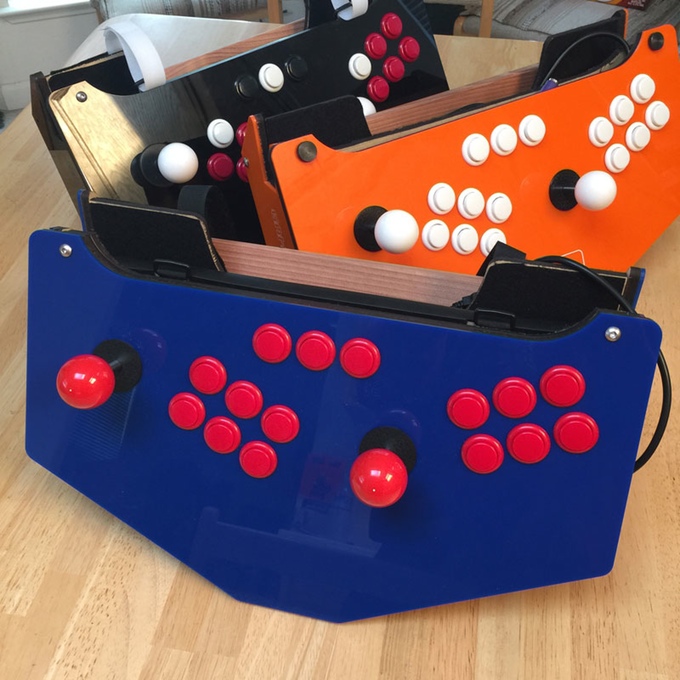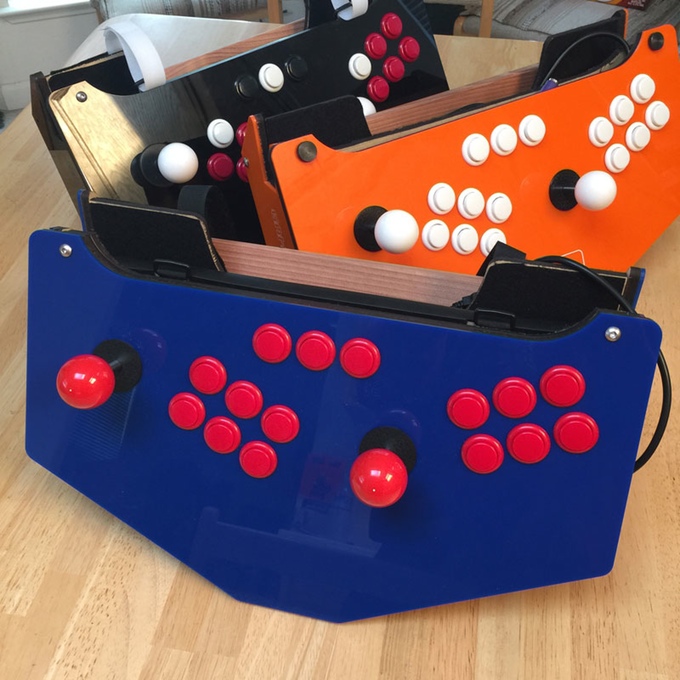 Our very first build was some scrap wood and aluminum cut on a bandsaw and bent on a vice. We asked each player to doodle on it for a very sentimental pair of fight sticks. Although retired, the frames are proudly on our desk to remind us that we do all of this to for the Player 2 in our lives. Let's play games together.